On Friday I released my latest book, The IGI Principles, and with your help it quickly rose to be an Amazon #1 Bestseller in multiple categories.
#1 in Business Motivation & Self-Improvement (Kindle Store)
#1 Best Seller Motivation Business Management
#3 Personal Success in Business
#1 Best Seller in Business Motivation & Self Improvement
The book also scored on some international charts, such as:
#1 Canada
#3 Australia
#5 Mexico
A Practice of IGI
For the launch, I worked all day and stayed up all night to help give birth to IGI and welcome it into the world.
We were hoping to hit #1, and late on the night of the release, found us stuck at #2. It wasn't looking like we were going to reach that particular milestone I followed my own books advice and surrendered, Invited God In, and accepted that it didn't matter ifwe got the #1 spot as I was happy with the book and its impact regardless. However, right around midnight I checked once more before going to bed and saw that we had done it! #1 in multiple categories.
Gratitude To All
Today, I am so, so very happy, excited, honored, exhausted, humbled, amazed, fulfilled, beat, thankful, inspired, in-flow, overwhelmed, engaged, tired, and at peace and feeling in the state of Grace.
From the bottom of my heart, thank all of you who helped me along the way in getting this book created, prepared, marketed, endorsed launched, and now birthed out to the world!
To any and all my friends past and present as well as clients and associates who helped me in downloading and or buying books you helped me in this very successful launch day!! You all wowed me and I am so appreciative and honored!
I knew I was meant to write and launch this book many years ago. God had tapped my shoulder one too many times, but fear, ego, timing, doubt, and procrastination kept me from doing it sooner.
I am no longer in those mindsets and am feeling in more of a co-creation space with the universe and what I call God – simply defined as"the sum of all that is."
That allows me to have a deep and broad understanding of the power of how vast, deep, and wide God is in our life's creation and experience.
There is nothing that is not made of the energy of the sum of all that is, thus ……God.
So, I express my thanks and my gratitude to all who have helped, supported, guided, and propelled me on this journey and milestone! I offer my deepest and most soulful expression of thanks!!
And I simply say may God bless you, may you channel your own IGI more and more, and may we all work together to create a more peaceful, accepting unified and loving world!!
Let the journey begin and the power of #IGI take its natural organic powerful course to help flow and do more good in the world through all who allow it to flow!!
Testimonial From Marshall Goldsmith
The book is still in its opening week promotion where you can get the Kindle version for just 99 cents.
Worldwide Press For The IGI Principles
The book has gotten some traction in the press. Here is one article on Yahoo Finance Global about the book.
Also, it has hit Market Watch, Associated Press, IBT- International Business Times, CBS Broadcast Media, and more.
Read the Yahoo Finance Article Here
Buy The Book On Amazon Now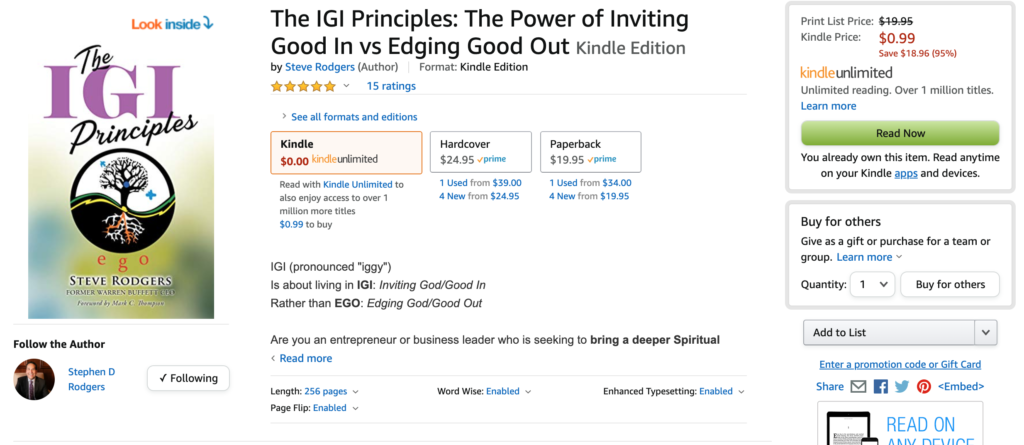 Kindle version just 99 cents for a limited time!
Watch the Introduction